How to mark color by JPT MOPA 20W or 30W M6
Views:351 Author:OPTIC LASER Publish Time: 2019-08-13 Origin:China fiber marking machine supplier Inquire
How to mark color by JPT MOPA 20W or 30W M6
If you mark color on 304 stainless steel that 175x175mm lens is better for mark color.
It test result by JPT laser source company.
Also the machine adjust the deviation of focusing about 2mm-5mm when you mark color.
Here is 20W 30W M6+ laser source parameters
Product model
YDFLP-20-M6+-S
YDFLP-30-M6+-S
M²

<1.3

Delivery cable length
2000mm
Nominal average output power
>20W
>30W
Maximum pulse energy

0.5J
0.5J
Full power repetition rate range
40-2000 kHz
60-2000 kHz
Pulse repetition rate range
1-2000 kHz

Pulse duration
1 - 250 ns
2- 250 ns
Longtime average power stability

<5%
What is parameter influence marking color ?
1)Laser power rate
2)Frequency
3)Pulse duration
4)Speed
5)Hatch the line method and parameter
6)Focusing
Here is a color metal plate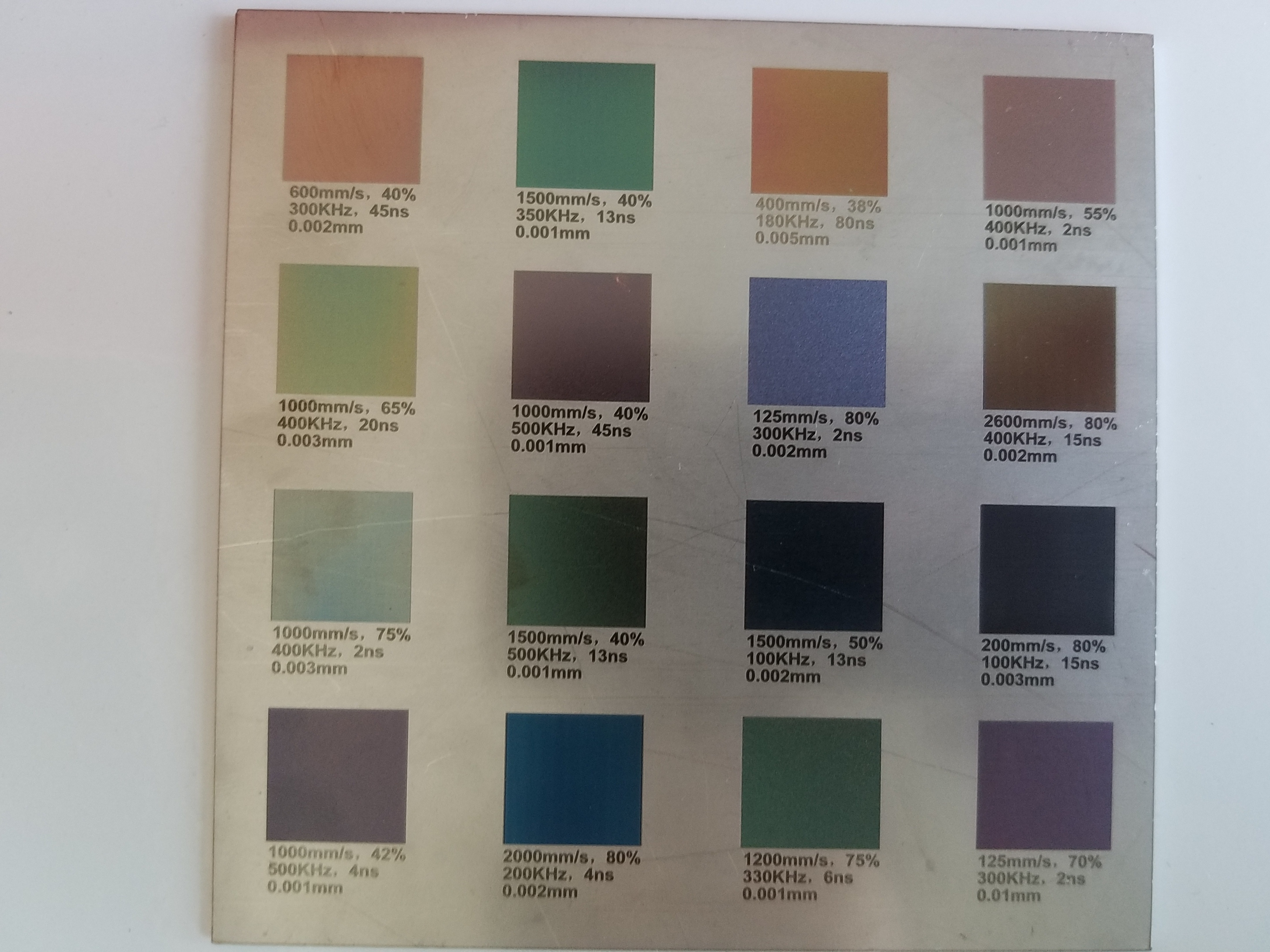 For example, the no.1 red color parameter
Speed 600 mm/s , power 40%, frequency 300 kHz, pulse duration 45 ns hatch line distance 0.002mm, focusing:deviation 3mm
So you can follow up above plate metal parameter if you use JPT MOPA M6+ laser source.