Why gold and silver are hard to be welded?
Views:18 Author:Max Wang Publish Time: 2019-08-23 Origin:www.opticlaser.net Inquire
Why gold and silver are hard to be welded?
ND:YAG laser or fiber laser which have 1064nm wavelength can fabricate most of the metals.They are widely used in many industries like jewelry,dental,custom gift etc.However,if you are in jewelry industry and own a laser welder or laser marker,you will find that gold and silver are harder to be fabricate than other metal like Stainless steel and carbon steel.The laser welder,for example,can weld steel easily but it's performance is not so well when work with gold and silver.So why gold and silver are hard to be weld?I should show a picture first.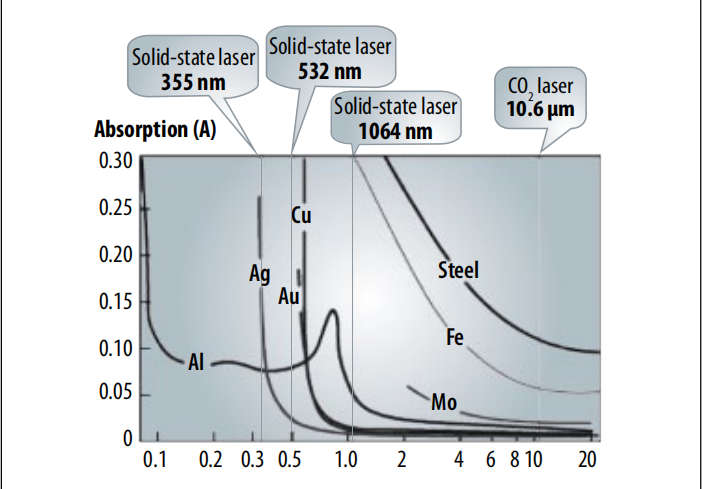 As we can see from the picture,the horizontal line shows the wavelength of laser (μm) and the straight line shows the how many persent of laser the metals absorbs.We have 7 metals in the picture.Each curve shows the correspondence between wavelength and absorption rate for each metal.Mo,AI,Au and Ag are have bad performance in absorption of 1064nm laser and Steel and Fe have good adsorption rate however.That's why gold and silver are hard to be welded because they keeps reflective the laser and don't absorb them.
In practice,we usually say gold,silver,aluminum and copper are high reflective material.It means they reflective most of the 1064nm laser.So you need a high power energy laser welder if you want to weld gold and silver and our 200w laser welder is perfect for this application.
https://youtu.be/NxrybSDfqg4