How to avoid the protective lens of handheld fiber laser welding machine crack?
Views:33 Author:OPTIC Olina Gong Publish Time: 14-07-2020 Origin:China handheld fiber laser welding machine supplier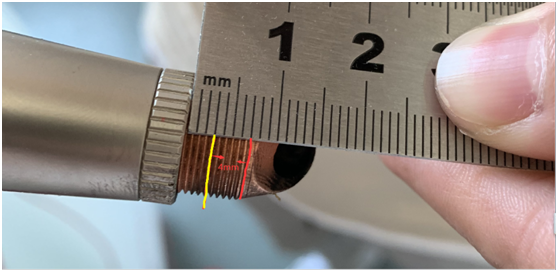 Some of our customers meet the problems of protective lens cracked when they use the handheld fiber laser welding machine for first time. So we summarized some tips for avoiding this problem happen:
1. The welding head must be 45 or 60 degree when welding, should not 90 degree vertically using, or the laser power will be too strong.
2. When welding the metals, if see the sparks are very big, it means the power of the laser is too strong, it will make the lens cracked.
So you can adjust the copper nozzle. Screw in or out the copper nozzle to adjust the focus, you can screw the copper nozzle close to the head till to the yellow line as below picture and keep just 4mm distance from the left to the right.
3. The machine must connected with gas (nitrogen/argon/air compressor) to protect the laser source and welding head(protective lens are set in the welding head).
More questions about the handheld fiber laser welding machine please feel free to contact:
Olina Gong
Mobile/Whatsapp: +86 18124785750
Email: optic102@optic-tech.cn